Archives for specific animated cursors
Free member Site Only available to share Cursors (Archives of animated cursors). Only I can share following cursors under none public, please accept Term of use and login the cloused site. also reffer to < Site policy >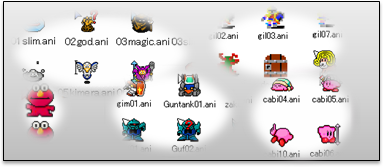 Click here
< A to E >
Alchemist of steel
Anpanman
Adventure of oden-kun
Animal's wood
Baltan seijin
Black Butler
Coil a circle of children
Cars
Crayon shin-chan
Doragon Quest
Doragon Ball
Duffy, Shellie May
Dr. Slump arare-chan
Elizabeth (Gin Tama)
< F to J >
Forever friends
Guandam(Haro)
Guandam(RX-78)
Guandam(bundled Gim,Guntank,Zaku,Giong)
Hamutaro
Hello Kitty
Hitman Reborn!
< K to O >
Kaonashi
Keroro Gunso
Kikaida 01
Kiki & Rara
Kirby super star
Ko-rilakkuma
Mask rider Amazon
Mask rider V3
Mashimaro
Monchichi
My melody
Naruto
Night Mare before christmas
Nyan Nyan Nyanko
N.Y. Salad
One Peace
Smurfs
Spirit Away (Yu-bird, Boh)
< P to T >
Pinky
Peko Poko
Pooh
Qoo
Relaxed Bear
Sanrio omunibus
Sesame street (all star)
Smurfs
Snoopy
Spider-Man
Sailormoon
Stitch
Suzy's zoo
Thunder Bunny
Tachikoma (Ghost in the shell)
UsaVich
Tower of Druaga
< U to Z >
Ultraman
Ultimate muscle
Wacky Racers

Login to member limited site, or I can share these cursors of none public, please let me know by E-mail to get them.